section.io is expanding our team, and we want your help in finding our next sales superheroes. We are searching for a sales all-star who has experience in outbound sales for Content Delivery Networks, website performance tools, or other B2B technologies. If you know someone who might be interested, refer them to us and if we hire your referral you'll get $2,500 as our way of saying thank you. Send them to this job posting link and make sure they mention your name as a referral.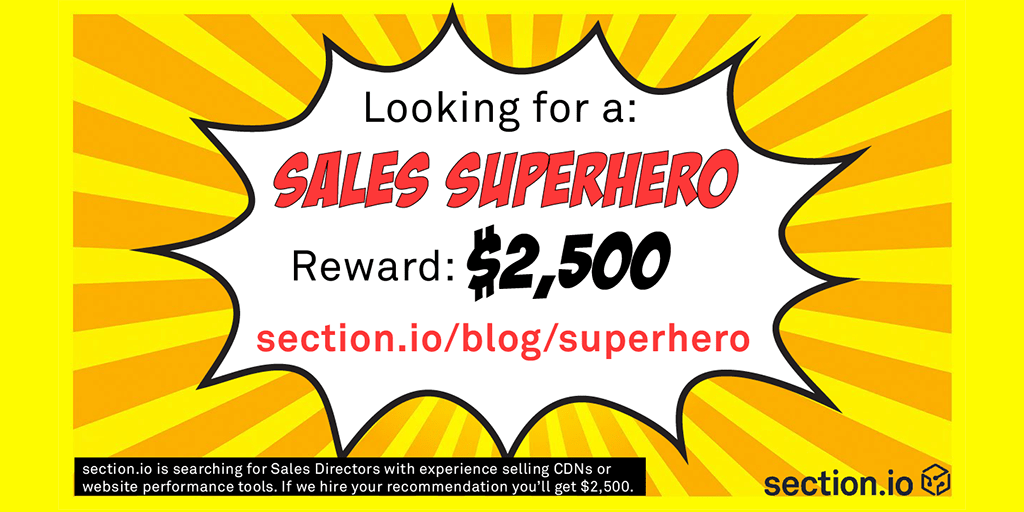 section.io Mission and Culture
Here's a little bit more about section.io's mission: We're a global Edge PaaS that aims to improve the internet by providing engineers with control over reverse proxy software such as Varnish Cache. On the technical side, we give developers the tools they need to integrate their reverse proxy configurations with DevOps and Agile workflows by providing a local development environment, real-time logs and metrics, and code-level control over configuration. For businesses, this means faster page load times, improved SEO and marketing metrics, and reduced hosting costs.
section.io was founded in Sydney, Australia and is now headquartered in Boulder, CO. We are looking for a sales candidate based in the US but they can work remotely if not based in the Denver/Boulder area: read about our remote work culture here.
We are an enthusiastic team passionate about the section.io mission and product and are willing to work hard to accomplish our goals, but also recognize the importance of a healthy work-life balance. Other perks include generous 401k and healthcare/dental/vision plans, unlimited paid vacation (that we encourage you to use), stock options, flexible hours, and frequent Tim Tam bonuses.
Sound like a perfect fit for someone you know? Get them to apply here.