If you've already explored every corner of our Solving the Edge Puzzle white paper and are in need of another great edge resource to sink your teeth into, look no further than Section partner Lumen Technologies' recent Trend Report: The Edge Computing Imperative.
Based on an April 2021 Quadrant Strategies survey, this report features data gleaned from more than 1,700 C-suite executives and senior IT decision makers from large and midsize organizations worldwide, and covers business requirements and use cases driving the adoption of edge compute infrastructure, software, services and platforms.
Among the things you'll learn from Lumen's report are:
Factors driving your peers to the edge
Benefits of edge compute workloads vs. on-prem and public cloud
Why network latency and security matter in the 4th Industrial Revolution
Why organizations need trusted partners to help them maximize the value of their edge solutions
For us, the findings on the importance of application latency grabbed our attention. Let's take a closer look.
Edge Location, Edge Location, Edge Location
An effective presence at the edge is based on having a robust location strategy. By moving workloads as close as possible to the end user, latency is reduced – and as we'll see shortly, application latency is a critical metric for most organizations. In fact, according to the Lumen report, "Global IT decision makers are twice as likely to say edge compute would do a better job of lowering latency and improving overall application performance than the public cloud."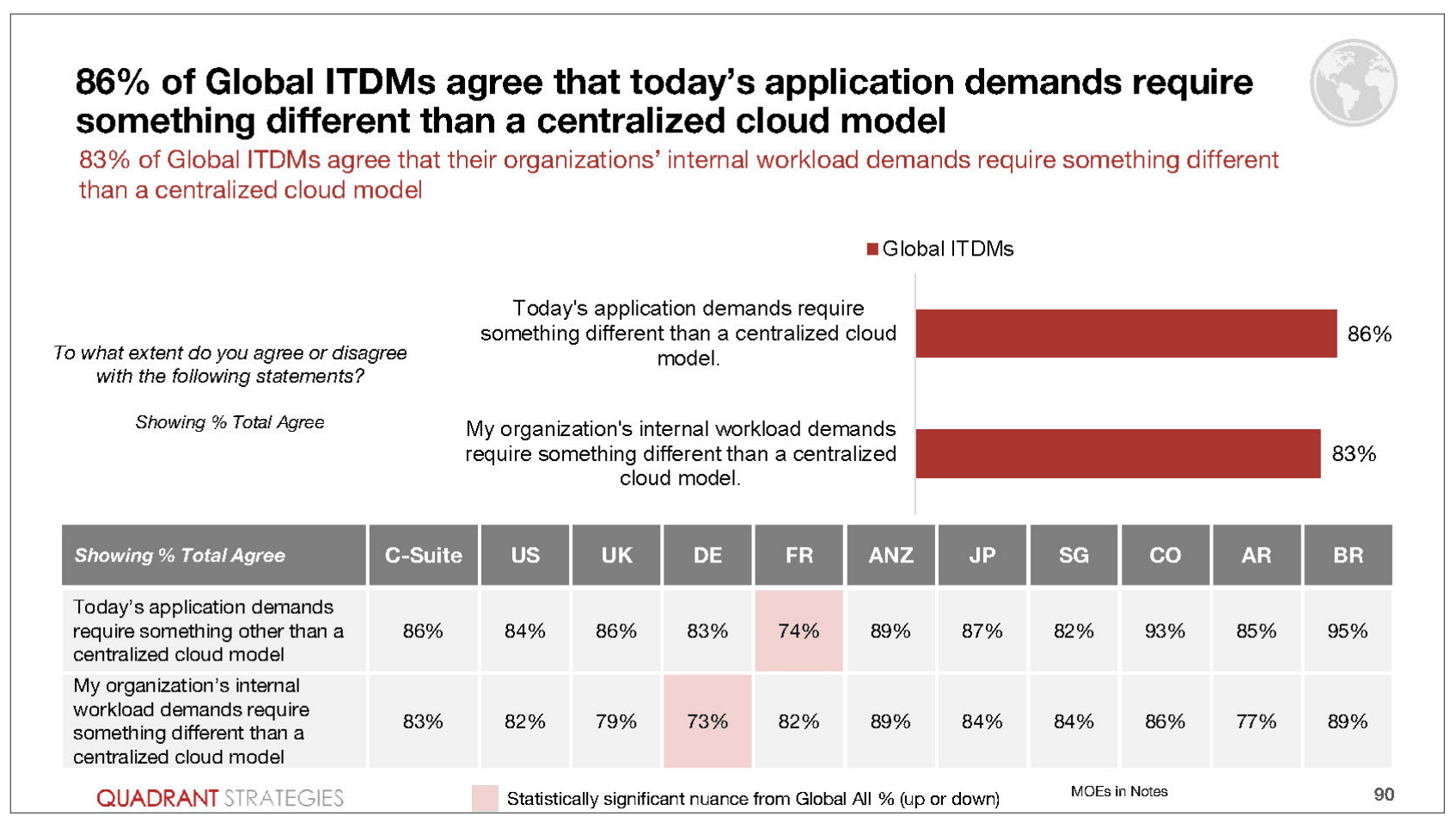 Image sourced from Lumen Trend Report: The Edge Computing Imperative
Yet selecting and managing the appropriate geographies for your specific application within a distributed compute topology involves careful planning. Businesses (who haven't done so already) tend to start with migration of selected applications to a centralized public cloud, prior to deploying next-generation applications across a distributed edge footprint. Lumen points out this can be problematic on a number of levels:
Cloud deployments can result in disappointment in terms of performance and cost, especially for applications (like dynamic AI) that require many round trips, which tend to drive up bandwidth cost and overall latency.

Security is also a big worry for cloud/edge deployments, with 80% of those surveyed citing security as a critical concern when moving on-prem applications to the cloud.
That said, Lumen notes that only 28% of global IT decision makers intend to keep on-prem computing as an integral part of their business, and as a result, those surveyed expect to double use of distributed applications in the next five years. IT leaders now see edge services as a logical extension of the value and agility of cloud services. In other words, notes Lumen, edge extends the benefits of the cloud.
But determining how to efficiently deploy and manage distributed systems can be a challenge. It's no wonder nearly three quarters of the US-based respondents in Lumen's report noted that they'd prefer to only manage applications vs. managing infrastructure.
The Latency Imperative
Why is edge computing so important? As evident in the Lumen report, the importance of application latency cannot be understated. To quote directly from the text:
86% of global IT decision makers agree that low-latency applications help differentiate their organizations from competitors, over 30% say low latency solutions are necessary for the success of their organizations. It is not surprising then, that 80% also are concerned that high latency is impacting the quality of their applications.
When asked for the latency requirements of their most mission-critical applications, 8% say 30+ milliseconds, 21% say 20 milliseconds, 44% say 10 milliseconds, and 17% say 5 milliseconds or less. As dynamic interaction with users or devices increases, business leaders and IT decision makers expect to require even lower latency: more than half of global IT decision makers say their most mission-critical application will require 5 milliseconds or less latency five years from now.
If IT decision makers are overwhelmingly focused on the importance of latency for their own systems and applications, they're darn sure going to care about latency in any SaaS apps they're using from others. In short, ignore latency at your peril.
That said, while latency is the primary driver for edge adoption among the IT decision makers surveyed in Lumen's report, there are other factors that are also pushing this architectural paradigm shift. In case you missed it, we discussed these in more detail in a previous blog post about how latency, reliability, and security are accelerating edge computing innovation and adoption – and why the demand for operational simplicity is a parallel thread to total Edge application delivery.