Careers
Join the section.io team, reach out via Contact Us if looking for opportunities or apply for a role below
About Us
section.io was founded in Australia in 2012 and moved our headquarters to Boulder, Colorado in 2016. We're backed by a group of top-shelf Venture Capital firms...led by the Foundry Group. We have a significant number of dedicated customers in the global ecommerce, travel and media industries. At section.io, we hire smart, talented, dedicated engineers and provide attractive compensation, equity options, full benefits, unlimited PTO, fulfilling work/life balance and maximum workplace flexibility.
section.io was created for developers, by developers. We're adding to our world-class engineering team and this is an amazing opportunity to transform not only the entire CDN sector, but your career as well. Come join us!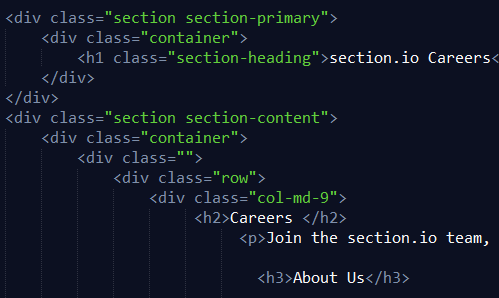 Software Engineer (Platform)
Locations: Boulder/Denver Co and NSW, Australia
section.io is the only website optimization platform that gives developers the control they need to achieve unmatched website speed and reliability. Unlike legacy Content Delivery Networks, section.io provides a software-defined content delivery solution so developers can easily customize and control their web performance, scalability and security compositions using open tools and an easy-to-use interface.
We are growing our Engineering team and are seeking passionate, talented Software Engineers who love to build low-level system software alongside a small group of highly technical engineers. This is a great opportunity to build an industry-transforming platform, which has an extremely high upside-growth potential. CDN is $7B industry today and is projected to grow to $31B (4x) by 2022.
Why this job is compelling...your opportunity to make an impact
You'll primarily be building new features across all four of our sub-system modules for our revolutionary software defined content delivery platform. Here's why section.io is compelling:
Your work will be impactful...it's very early stage in our category and the upside potential is dramatic both at section.io and in the CDN sector
section.io is all about engineering...founded by and filled with talented engineers
Use/learn cutting edge languages, tools and frameworks (Golang, Kubernetes, AWS/Azure, Python, etc.)
Lots of workplace flexibility...work from home...work from our offices in Boulder or Denver or Sydney
Great employee benefits, equity options and competitive compensation
section.io is very employee-centric...last year's company retreat held in Hawaii
We are an international company and you'll have the opportunity to travel to and from Australia
About you
It's a given that you have some previous systems level software development experience, but more importantly you love building impactful software that makes a fellow engineer's job just so much easier. Additional attributes include:
Development experience in Go, Python or Ruby would be terrific, but you don't have to have these. Great developers can (and should) learn all sorts of languages, frameworks and tools. The above are what we currently use, so if you don't have them already, plan to add them to your development toolkit.
Experience with any of the following from a SW development perspective would be great...Cloud (AWS/Azure), Kubernetes, Infrastructure Automation, DevOps, Networking, TCP/IP.
Ability to be flexible and be an "all-around" SW Engineer...we're small, so you've got to wear lots of hats and you will own what you build.
Have the confidence to push your code into production as quickly as possible...build it, test it, deploy it, fix it (if needed) and move on. You have a little bit of "risk-taking, fighter pilot" in you.
You're passionate about software development and you recognize the value in teamwork and collaboration...you're fun, flexible and a nice person (no jerks allowed)
Customer Engineer (Sydney, Australia)
We have an opportunity for a Customer Engineer to join our rapidly growing pre and post sales customer success team in the Sydney (Australia) office. Driven and well-rounded individual(s) possessing strong technical and communication skills and a desire to assume significant responsibility and grow at a rapid pace would fit perfectly in the role. The Customer Engineer will work with our customers during the early stages from pre-sales through the entire implementation process and be responsible for owning the success of the customer.
To apply for this role you must solve a series of clues, each more devious than the next (ok, there is actually only one step). Check the HTTP response headers for this HTML document to find the X-Syd-Engineer header which contains the email address to submit your resume / details. Here is a hint on viewing response headers.
About
section.io is built to help website engineers. section.io gives you more control and flexibility with respect to the edge delivery of your web application.
Locations
United States
1105 Spruce St.
Boulder, Colorado 80302
Toll Free +1 844 325 9500
United Kingdom
86-90 Paul Street
London, EC2A 4NE
Toll Free +44 800 011 9066
Australia
Level 14, 275 Alfred Street
North Sydney, NSW, 2060
+61 2 9119 0444