Custom Edge Stack
Create the perfect edge stack for your application.
Build Your Stack
Deploy a customized Edge Services stack to meet the unique needs of your application. Our extensive Edge Services Marketplace includes open source and proprietary solutions from industry-leading providers to serve a diverse set of edge needs.
Build a Custom Edge Services Stack

Choose the Edge Services you need and build them out in the order which makes sense for your application.

Starting at $495/month
First Month Free*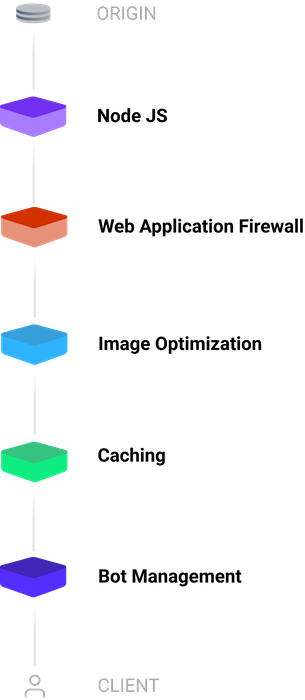 Available Edge Services on Section
*30-day free trial offered upon signup. Pricing is based on volume of requests passing through your edge stack and services deployed.
Section's Adaptive Edge Engine intelligently and continuously tunes and reconfigures your edge delivery network to ensure your edge workloads are running in the optimal compute for your application.
Powered by Adaptive Edge Engine
Core platform features include
Every Section Edge Solution is supported by the features of our Core Platform which includes security, flexibility, scalability and everything modern DevOps teams need to manage an Edge application.
Global distribution of 60+ PoPs
Unlimited domains
Anycast DNS hosting
Maintenance pages
Section support and training
APIs
Git-backed CI/CD workflows
Instant global deployments
Developer PoP
Instant cache purge
Real-time metrics
Log management
Core DDoS mitigation
IP restrictions and blocking
Managed SSL certificates
Not sure where to start?
Our team of engineers is ready to talk through edge compute solutions to fit your application's needs.