While many companies may hold similar philosophies when it comes to workplace flexibility, Section's 'work-where-you're-awesome' policy clearly sums up the intentions underpinning the remote work movement. Beyond attracting and retaining talent, companies that embrace workplace-neutral cultures are thriving.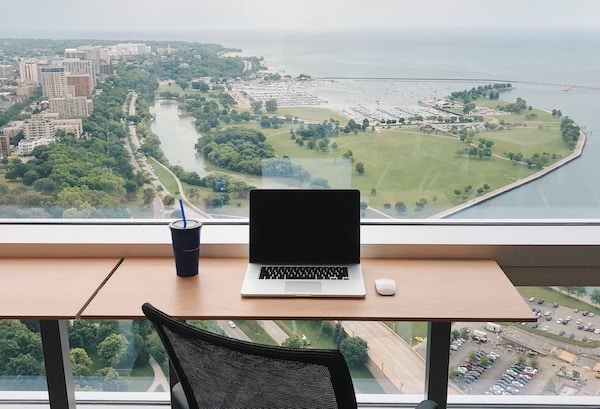 The Decision to Build a Location-Neutral Company
Section explicitly set out to build a remote company. But along the way we have adjusted, recognizing that remote is not for everyone.
Stewart McGrath and Daniel Bartholomew co-founded Section in Sydney, Australia back in 2012. Frustrated with the idiocy of the entire Sydney workforce hitting the roads from 7am-9am and 4pm through 6pm, Dan and Stewart set out to create a culture of trust with freedom. Trust to get the job done and freedom to get it done from the location which makes sense for the individual.
In 2016, Boulder, Colorado became the company's new HQ. At the time of the move, many of the Section team members remained in Australia. Our Australian team was working 100% remote, while our US team set up 100% in-office. This caused a number of communication issues as our in-office people discussed and agreed in different forums to our remote Australian team. We clearly had this wrong.
On disbanding our US offices and moving back to 100% remote globally, we then found some of our team feeling disconnected and interested in coming into a shared office space. We learned that working from home is not necessarily the right solution for everyone. We needed to find a balance which was inclusive of a variety of personal needs. This gave birth to our work from where you are awesome policy. With some dedicated office space in Denver, Boulder and Sydney, our team now has the option to work from home, the road, or an office space. We just ask you to be awesome.
In some respects, this also delivers a type of work-life blend that, today, Sectioneers have come to value. (We could write an entirely separate article on the 'work-life blend topic', but the essence is that we don't think you should have to make a choice between your work and your life — it's all just life, and we all deserve to thrive.)
Over the past several years, the spread of physical locations among the team has further diversified, and our 'work-where-you're-awesome' policy continues to feed our organizational health and growth.
Why Remote Working Benefits DevOps
Our interest was naturally piqued late last year when Senior Staff Engineer at GCPCloud Seth Vargo tweeted about the benefits of a remote-friendly culture:
**Recruiter:** *We're looking to attract top talent for our NY and SF offices!*
**Me:** *No you're not.*
**Recruiter:** *?*
**Me:** *Top talent doesn't have a location. Invest in a remote-friendly culture or be honest that you're only looking to attract "transient people who write good software".*
The Tweet set off a firestorm of discussion about the value of remote-friendly culture in the DevOps world. Seth Vargo, who works for Google's cloud computing service from home in Pennsylvania, argued back to various detractors (and received the support of many others) about the benefits that the flexibility of remote work engenders, particularly in fostering a positive DevOps culture.
The topic has been trending for several years. According to GitLab's 2018 Global Developer Report, remote teams score higher in collaboration, visibility and DevOps satisfaction than in-office teams, leading GitLab to conclude that "a remote workplace culture is more conducive to DevOps adoption".
One of the reasons behind this, GitLab asserts, which we can attest to from our experience at Section, is that "without the convenience of physical proximity, working remotely requires a commitment to open discussion and an understanding that team members must be able to easily view projects and receive updates". This leads to a culture that prioritizes visibility. According to the Global Developer Report, 67% of remote teams say they have visibility into the work of other team members compared to 57% of in-office teams.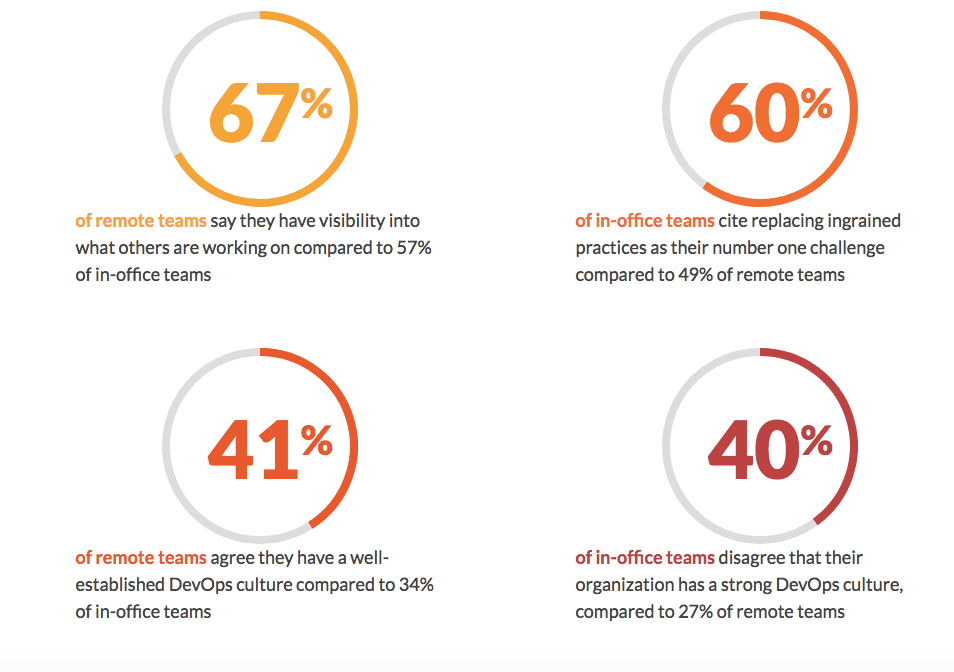 Any remote worker can speak to the need to communicate often and effectively to make sure that others are kept informed about their decisions and progress, and vice versa. As GitLab puts it, "without the convenience of physical proximity, working remotely requires a commitment to open discussion and an understanding that team members must be able to easily view projects and receive updates." Furthermore, GitLab adds, because remote teams use tools that purposefully embrace concurrent work, the challenges of siloed workflows can be significantly reduced.
This kind of open communication can help to build a culture based on trust and transparency, allowing DevOps teams to be more efficient, more collaborative, and "more easily adopt a model that fosters cross-functional communication and workflows".
Remote work structures have also been identified as a great way to build strong disciplines in the workplace. As Tomasz Tungaz notes, "Remote forces you to do the things you should be doing any way earlier and better". We have invested time and effort in meeting discipline, communication structures and values.
Quality of Life Benefits
Our Section Engineer Interview Series has helped reinforce how much we all value the benefits that remote work can offer, both in terms of how it can foster a more innovative, collaborative approach to achieving results, as well as its impact on improving quality of life.
Jason Stangroome, who's lucky enough to live near the Australian shoreline, likes to start his day early with a walk along the beach, "ideally just as the sun is rising. Maybe get the shoes off and let the sand get in the toes and let the water come up. Maybe go get a coffee and just sit there and take it all in for a little while before I start my day." Having the chance to sit and watch the waves with the sand beneath his feet offers a quiet time of reflection before getting stuck into the "bleeding edge tech we get to play with."
Glenn Slaven, meanwhile, lives out in the Australian bush with his wife, their four children, two dogs, two guinea pigs, two alpacas and a cat. "Working from home is awesome," Glenn says. "I know it's becoming more common in the industry, but there are still a lot of places that expect to see you face-to-face all the time; otherwise they don't think you're working. So this work from home thing is fantastic. It allows me to see more of my family. It allows me to live out here in the middle of nowhere, which I couldn't do if I went and got a job in an office. I could, but I'd have to commute for two hours each way."
Along with working from home, Glenn's favorite thing about working at Section is "the people… It's a great company. We've managed to hire some really great people."
Pavel Nikolov based in the Sydney area enjoys the flexibility that remote working affords him to spend quality time with his son. He says his favorite time of the day is when he picks up his son from school and they cook dinner together, "every single evening. No exception." Furthermore, Pavel is a night owl. "I'm more productive at night", Pavel admits. "I don't know why. I've always been like this." Having a flexible workplace and hours allows Pavel to contribute during his most productive times of the day.
Molly Wojcik, Section's Director of Education & Awareness, recently relocated from the Denver area up to the Rocky Mountains in Steamboat Springs, Colorado. Molly says, "From a work perspective, I don't really feel like much has changed. I'm just living a better life, which in turn, keeps me more energized and productive in my work." As an outdoor enthusiast, Molly says, "Sometimes I'll go do a sunrise ski with my dog before work, which is such a refreshing way to kick-start the day."
Maintaining a Strong Company Culture
Even though it's usually tomorrow in Australia when the US is online, we strive to maintain a strong company culture across our remote team. Regular virtual events, in addition to our day-to-day ops meetings include:
How I Dev, Our Version of a Brown Bag
Every two weeks, we host our (optional) How I Dev series, where one of our team members or a group of collaborators do an informal presentation on something that might have extended value for the group, or to share something cool that they've built. Topics vary from development best practices to deep technical dives (such as on Prometheus querying) to specific challenges and how they were overcome.
It is often developer-focused, but not always. One popular session involved a show and tell of our personal workspaces, allowing a way for us remote workers to get a glimpse into each other's office setups.
How I Dev allows us to share best practices and learn from one another, as well as helps engender a strong sense of connection among the whole team.
Virtual Happy Hour on Friday Afternoons
Social events are important for strengthening team bonds, but with a globally distributed team, it can be challenging to gather for outside-of-work conversation. One ritual that we all look forward to every week is Friday Happy Hour — ours just happens to be virtual. Somebody typically starts a video session around 4pm on a Friday (in the local time zone) at which point many will grab their favorite beverage of choice (craft beer, tea, kombucha, Old Fashioned, …), and we'll just shoot the s*!& for about 30-minutes. It gives us all a chance to wind down the week and connect on a different level.
Shuffl Bot in Slack
Something new that we've recently started trying out is the Shuffl bot in Slack. The app uses Slack usage data to randomly pair teammates who perhaps don't interact very often, and encourage them to arrange a catch-up. While we've only gone through one cycle, early feedback has been very positive.
Summary
Beyond simply declaring a 'work-where-you're-awesome' policy, fostering a positive, collaborative and productive environment requires mindfulness, both at the organizational level and the individual level. Yes, systems and tools help keep communication flowing and work progressing, but ultimately, it's about being proactive with outreach, transparent and inclusive in communications, and trusting of each other's commitment to growth.