Section believes that developers should have all the tools they need to evaluate and improve their content delivery within one solution, which is why we have recently added robust synthetic monitoring to our core feature set. When combined with Section's Real User Monitoring, proxy-specific metrics, and log management, this release ensures that all Section accounts have the comprehensive monitoring tools they need to continually troubleshoot and improve their website performance.
What is Synthetic Monitoring
Synthetic monitoring consists of emulated browser tests that check the performance of a webpage under specific circumstances. Synthetic tests cannot fully anticipate the behavior of actual website visitors, but are valuable because they can collect data even when visitors are not present. This allows for performance trends including total page load time, number of requests, and content size to be viewed over time.
Track the performance of both your website and the websites of your competitors to stay on top and immediately see when you or your competitors are experiencing site performance issues.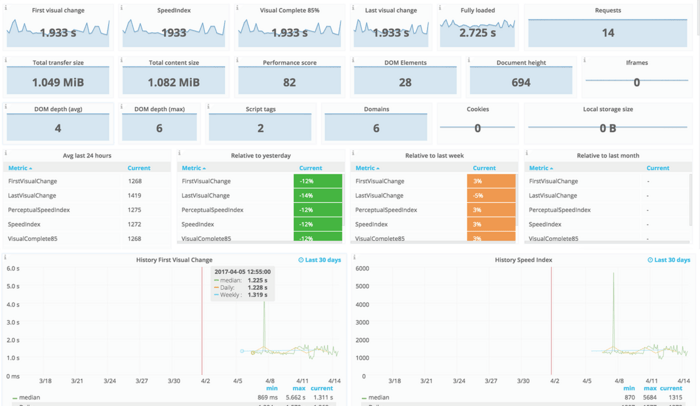 Section's synthetic monitoring is set up to collect data at regular intervals throughout the day so that users can view historical data and see how changes they make impact their performance. Pre-built dashboards make it simple to see when a website experiences a spike in load times, request count, and more. The dashboards also highlight important page metrics such as number of images and JavaScript calls which can negatively impact page load time.
To get Section's synthetic data, simply login to your Section account and add the URLs you would like tracked under Set Up → Synthetics. If you do not have a Section account, you can sign up for one now and get free synthetic and RUM data without changing your DNS for the duration of your 14-day trial.