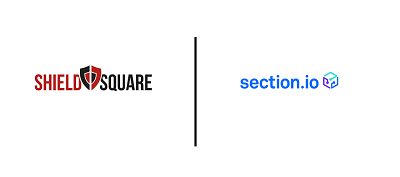 We are pleased to announce today that we have added ShieldSquare Bot Mitigation and Management to Section's modular web optimization platform. Both Section and Shieldsquare focus on improving the security of web applications and thier content.
This addition to Section's suite of reverse proxies for security and performance allows our customers to utilize this advanced bot management and mitigation software within Section. To learn more or add Shieldsquare to your Section setup, please contact us. The full press release is below:
Section Joins Forces with ShieldSquare to detect and eliminate undesirable non-human web traffic
Boulder, CO, June 26, 2018 - Section today announced the expansion of its website security offerings with the addition of ShieldSquare bot mitigation and management.
From Shieldsquare
"Specialized in delivering best-of-breed non-human traffic detection and management solution, ShieldSquare is a pioneer in bot management and protects over 80,000 internet properties spread across 70 countries. The solution secures online businesses against automated threats that are difficult to stop using conventional security measures.
Sophisticated automated attacks are often massively distributed or adequately low and slow to operate under the permissible limits of conventional rule-based security measures. ShieldSquare uses proprietary Intent-based Deep Behavior Analysis (IDBA) to understand the objective behind highly sophisticated automated attacks. IDBA performs behavior analysis at a higher level of abstraction of intent, unlike the interaction based behavior analysis. Capturing the objective behind automated attacks allows IDBA to provide higher levels of accuracy in bot detection."
Section's Modular Platform
Section's modular web traffic optimization is built using container technology, which allows it to offer a choice of technologies for website performance and security. With the addition of ShieldSquare, Section's offerings now includes multiple Web protection tools (ShieldSquare, open-source WAF ModSecurity, intelligent WAF Threat X, Signal Sciences Protection Platform), multiple unmodified Varnish Cache versions, Kraken for Image Optimization, Nginx with LUA for powerful Edge Side Rewrites, and Google's PageSpeed for front end optimizations.
"The ability for Section users to choose the web security solution that works for them, rather than being locked into black-boxed tools that legacy CDNs offer, is changing how people think of content delivery. We're pleased to partner with ShieldSquare to bring our customers the most advanced website security platform on the market today," said Stewart McGrath, CEO and co-founder of Section.
Section's core features include robust metrics, real time detailed logs, real user and synthetic monitoring, instant cache clear and configuration propagation, a global PoP network, and a Developer PoP for building and testing configurations locally. Over the coming months Section will deploy additional solutions for website performance, security, and scalability on its platform.
About ShieldSquare
ShieldSquare offers a non-intrusive API based approach for detecting and eliminating non-human traffic from web applications, mobile apps, and APIs in real-time. ShieldSquare protects online businesses against automated threats such as account takeover, application DoS, price scraping, content scraping, skewed analytics, and ad fraud. The company safeguards over 80,000 internet properties of global online brands spread across 70 countries. ShieldSquare operates through its offices in New York (the US), Bengaluru (India) and Chennai (India).
Get Started with ShieldSquare and Section
To get started with ShieldSquare and Section, please contact us.