We're thrilled to announce that Section is now a proud supporting member of the Cloud Native Computing Foundation (CNCF). We're honored to join this community of like minded individuals and organizations who share the same values of transparency, collaboration and community in the spirit of accelerating technological advancements for a common benefit.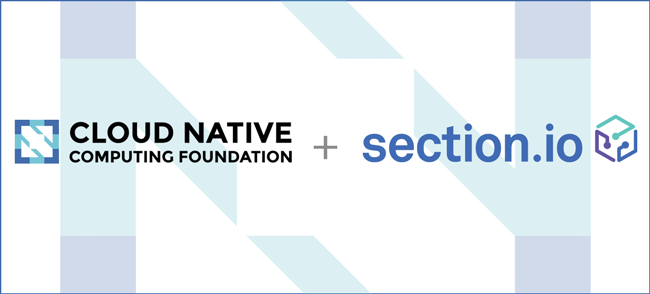 This commitment directly aligns with the Section Manifesto that has served as our guiding doctrine on our journey to provide a truly developer-centric edge compute platform that gives engineers the flexibility and control to run any workload, anywhere, underpinned by modern DevOps principles.
"We're really proud to join the CNCF community and help sustain their mission of empowering organizations to build and run scalable applications in modern, dynamic environments."
-Stewart McGrath, Co-Founder & CEO, Section
What is CNCF?
CNCF is an open source software foundation dedicated to making cloud native computing universal and sustainable. Cloud native computing uses an open source software stack to deploy applications as microservices, packaging each part into its own container, and dynamically orchestrating those containers to optimize resource utilization. Cloud native technologies enable software developers to build great products faster.
Kubernetes and Prometheus
CNCF is home to some of the fastest growing open source projects ever, two of which form the backbone of the Section platform: Kubernetes and Prometheus. As the first CNCF project, Kubernetes is the most widely used container-orchestration platform across the globe with adoption among some of the most respected technology teams in the world. With Kubernetes, we have been able to improve and scale our platform in ways that weren't previously possible.
Running parallel to Kubernetes is another CNCF project, Prometheus, which serves as our monitoring solution, informing all decisions, from container orchestration to business insights for clients.
Looking ahead, this year will also see us deploy additional CNCF projects, including OpenTracing, Jaeger and NATS.
"Giving back to the open source projects that have enabled us to disrupt an industry and build for the future of edge compute not only feels right, but is a debt that we have a responsibility to repay."
-Dan Bartholomew, Co-Founder & CTO, Section
Connect with Us at KubeCon Barcelona & KubeCon San Diego
Along with our ongoing commitment to support CNCF as community members, we will also be sponsoring the KubeCon Europe (Barcelona) and KubeCon North America (San Diego) events. If you plan on attending either of these events and would like to connect, get in touch with our team.