When we started the Engineering Education (EngEd) Program at Section last year, we never imagined how quickly it would evolve into a highly engaged global community. Our goal was to build and nurture a community focused around technical content created by the next generation of software engineers. Today, our thriving community includes student contributors from around the world.
Almost exactly one year ago, we recognized a gap in the springboards available to students with aspirations of building careers in software engineering. Beyond focusing on their studies, students are challenged with identifying and securing competitive internship opportunities and building connections with the business community – all this, while many also hold part-time jobs, often in coffee shops, retail, or on-campus work-study programs, to fund tuition and living expenses.
At the same time, at Section, we were working to develop strategies around building a scalable content engine that focuses on technical resources for software engineers. We thought, why not tap into the minds of the next generation of software engineers?
Our pilot program involved a small group of 3-5 local (Colorado, US) university students. We now have around 150+ articles written, 90+ members in the Slack channel community and over 40 published student contributors from all over the world (including the US, Kenya, India, Nigeria and Russia). The level of collaboration and community among the students has likewise exceeded our expectations. We find ourselves in the unexpected yet fantastic place of having to quickly work out how we can keep scaling to meet demand.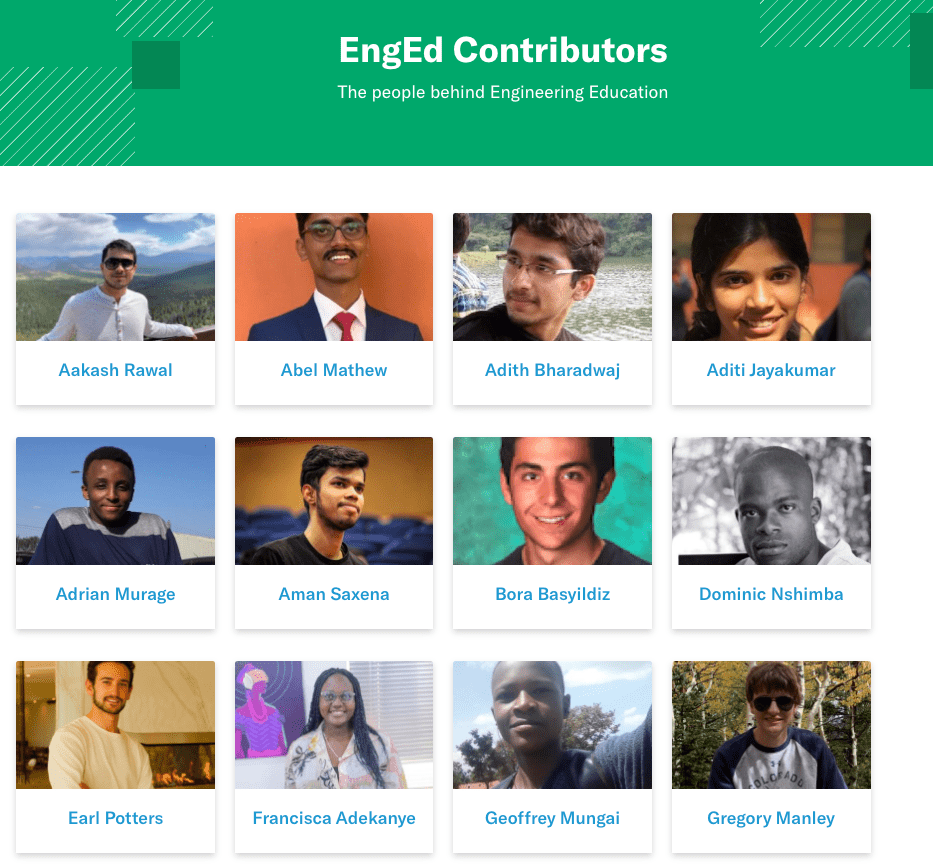 "Watching this diverse community grow so quickly in such early stages is truly remarkable. I really enjoy seeing all of the interaction among the EngEd community, not to mention the high quality content that they're contributing. At Section we have an incredibly experienced and capable tech team and they have enjoyed learning from the content contributed. We are enjoying surfacing and sharing from the next generation of tech." - Stewart McGrath, Co-Founder & CEO, Section
Earlier this year, we hired our superstar Community Content Manager, Hector Kambow, to lead the growth of the program. Hector immediately set to work getting the word out, beginning with local university partners then reaching out to organizations that work with similar pools of students to help spread the word. According to Hector, "We've really gained the majority of our momentum via word-of-mouth from the student contributors themselves who continue to bring in new faces. The diversity of our EngEd contributors is something we are truly excited about."
"I was drawn to contributing to EngEd because I noticed a gap in the covered topics. Articles were primarily about computer science so I thought I could bring my web development experience. I had just started learning back-end development and wanted to write the guide I'd wished was available and store my learning for future reference.

I'm constantly amazed at the diverse range of articles that EngEd contributors write. From machine learning to cloud storage to software development, the EngEd program aims to provide a whole range of guides, tutorials and articles for aspiring computing engineers written by computing students across the world." - Louise Findlay, EngEd Contributor and Peer Reviewer
After one in-person event at a student hackathon at the University of Colorado Boulder, all recruitment since has been virtual due to the pandemic. The program is open to anyone in a qualifying program of study who wants to enroll. There is an application process, beginning with the completion of a simple enrollment form. We are looking for students in the computer science field who have a good understanding of software and a desire to research and write technical content. Topics are typically suggested by the students themselves before being reviewed and approved by the team; and students are compensated for their published contributions.
We use the first article to build a relationship with the contributor. Then each post goes through an internal editing process, in which Section's engineers engage in a constructive review process with the student contributor over GitHub. You can sense the value of this discursive process for the students, and familiarizing them with workflows in GitHub provides an added professional skill set.
Section engineers have enjoyed interacting with the students in this way and seeing the community grow and flourish, many commenting that they wish there had been something similar when they were at university.
"Having shared a similar schooling experience with many of these students, it's easy for me to put myself in their shoes to realize the value that students can reap from the EngEd program. I just wish that this type of program would have been around when I was in school!" CJ Brewer, Director of Solutions Engineering, Section
Beyond the value that is delivered to the students, the benefits to Section are manifold:
Creating a recruitment pipeline (we have already hired two engineering interns directly from the contributor pool who are now actively developing UI elements in our product and interfacing with our customers);
Building a technical content engine;
Generating awareness of Section among the next generation of software engineers; and
Building a community: seeing the interaction between students in different programs around the world has been amazing.
We are currently focused on the scalability of our processes and as part of this, creating a peer review program to help us with scaling up and to foster additional opportunities for dialogue between the students themselves. One of the biggest highlights for us has been seeing how our contributors engage with one another, commenting on each other's articles in the Slack channel and sharing ideas for future ones.
"The Peer Review Program has allowed me to not only deepen my knowledge of cutting-edge technologies or learn about new ones entirely, but the technical review process has also helped me become a better writer myself. By paying special attention to grammar and technical fact-checking, and through a collaborative process with student authors, articles are publication-ready and filled with accurate and up-to-date information on industry trends and tools." Sophia Raja, EngEd Contributor and Peer Reviewer
One of the primary benefits for the student contributors is the opportunity to become a published author. Each one has their own author bio page that includes all the articles they've written, which we hope can act as a useful resource for potential employment opportunities.
Hector Kambow: "What drew me to managing the program initially was the potential for all the connections that could be formed. As a student, I would have been super excited to be part of something like this to learn more, build my skill set and get paid along the way. I can see how valuable it is for our contributors to get insight into how startups and collaborative development environments work and hopefully by connecting with each other, they might go on to build technologies of their own. The option is there for them to say, "You can work on the frontend, I can work on the backend, let's work on a project with each other."
We are excited to see what's next. Our current goals are getting the program to the stage where it's a full-on content engine rolling on itself that can easily scale as needed. We are also continuing to focus on improving the quality and length of the articles, which began as short-form foundational content and now encompass a wide breadth of topics and in-depth tutorials. Above all, elevating the level of engagement within the community itself is what excites us most: we can't wait to see where the students take this next.