Section is excited to announce we have added Real User Monitoring to our platform at no extra cost for Section users or those on a 2-week free trial.
Real User Monitoring or RUM data measures how actual visitors interact with your website and experience your page load times.
This is in contrast to synthetic measures such as WebPageTest that test website performance artificially and cannot predict the behavior of real users. Since RUM data comes directly from your visitors, it takes into account how your audience is accessing your website and how that impacts performance: For example, RUM data can tell you how your page load time differs across browsers, devices, and connection speeds.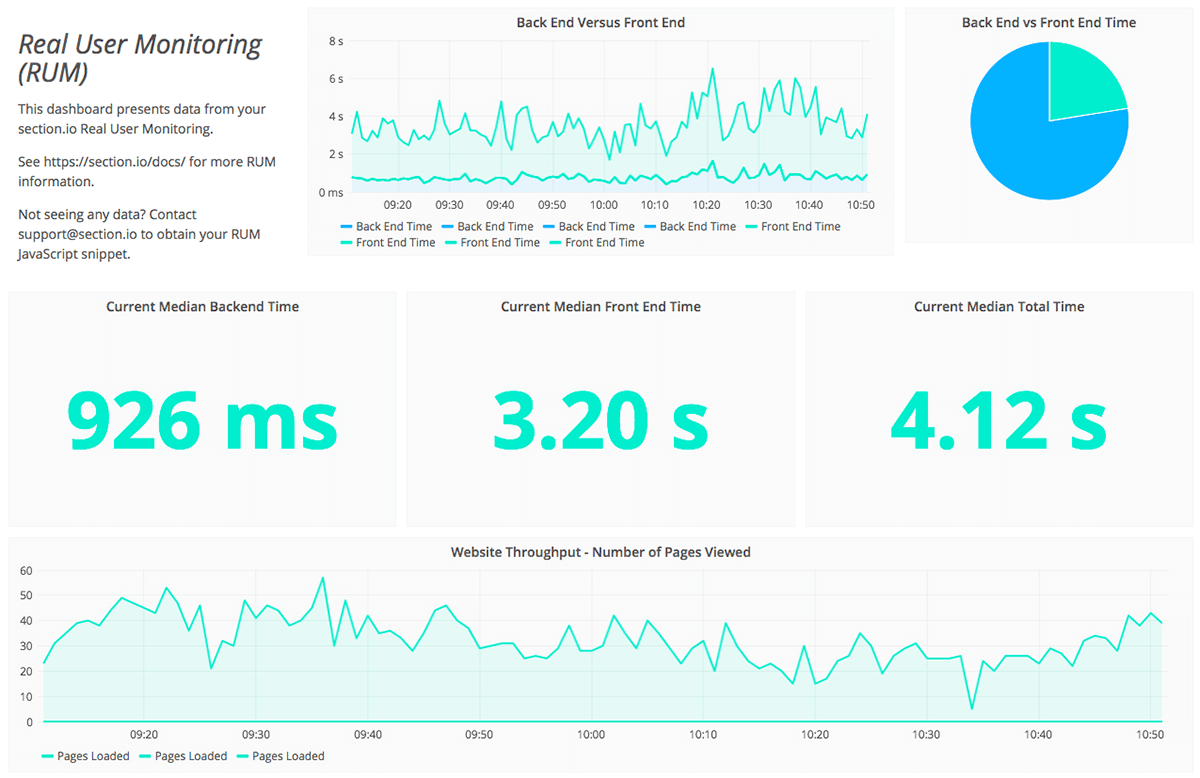 RUM is extremely valuable for websites looking to test and improve their website performance and scalability, especially because it can be implemented with a simple JavaScript snippet. Anyone with a Section account can now add a JavaScript snippet to their website and within an hour see RUM data visualized in the Section platform, without having to perform a DNS change or make any visible website changes.
For new users of Section or those wishing to collect baseline metrics for their website performance, this is a simple solution that provides in-depth information on how your website is currently performing. Once you have collected a baseline, RUM data provides information on how users are experiencing the performance improvements you make through caching and front end optimizations. RUM is also valuable as an ongoing measure that is largely unavailable through free tools such as Google Analytics, which only gives full page load time from a small sample of users.
Section's RUM offering currently includes the following metrics:
Back end load time
Front end load time
Full page load time
Throughput (page views)
Traffic by user agent (browser, device type)
These measures enable you to see where your website is performing well and where improvements could be made - for example, you may have a fast front end load time but a slow back end load time, something that can be improved with caching of dynamic content.
To start collecting RUM data for your website, simply create a Section account and once logged in go to the "Real User Monitoring" section under "Set Up" in the left hand navigation. Once you have inserted your JavaScript snippet into your website, metrics will start to appear under the "Real Time - Monitoring" view. If you have any questions about Section's RUM data, please contact us.