We're thrilled to share that Section has earned Frost and Sullivan's 2022 New Product Innovation Award for the North American Kubernetes industry.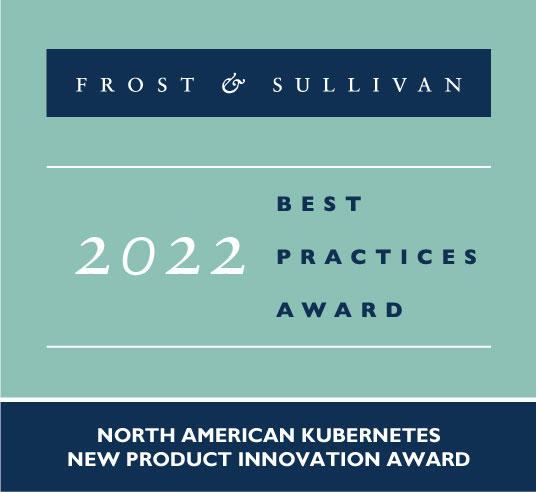 It's an honor to be recognized for excelling in Frost & Sullivan's rigorous evaluation criteria used to determine its Best Practices award recipients. Section developed the Kubernetes Edge Interface (KEI) as a software-as-a-service (SaaS) solution that, coupled with our Adaptive Edge Engine (AEE) and Composable Edge Cloud(CEC), enables customers to easily deploy workloads to a dynamically optimized and massively distributed Kubernetes based hosting platform.
Due to the development of KEI by Section, organizations can deploy application workloads across a distributed edge as though it were a single cluster. Section lets development teams already building Kubernetes applications continue using familiar tools and workflows, such as kubectl or Helm, yet deploy their application to a superior multi-cloud, multi-region and multi-provider network. The reduced burden on development teams to manage Kubernetes and try to choose the optimal deployment footprint frees them up to focus on improving their applications instead.
In a special Best Practices recognition report, Frost & Sullivan analysts detail the research behind Section's 2022 New Product Innovation Award and why we were selected. Here's an excerpt from their findings:
Frost & Sullivan has tracked the prevalence of containers, which have become ubiquitous in data networks, and the growth of Kubernetes to better manage those containers. Most customers are wary of running Kubernetes - but still want the benefits that a well-orchestrated management system provides. This is leading enterprises to seek ways to deploy Kubernetes solutions that they can customize, repeatedly if desired, to improve container management.

This is the hallmark of the Section solution, which automates the management of containers using easily adjusted parameters to meet the customer's specific needs and constraints. This, along with the high level of customization and automation of manual tasks provided by the Section KEI solution, earns Section the 2022 Frost & Sullivan New Product Innovation Award in the North American Kubernetes industry.
Frost & Sullivan's Best Practices awards recognize companies in a variety of regional and global markets for demonstrating outstanding achievement and superior performance in leadership, technological innovation, customer service, and strategic product development. Industry analysts compare market participants and measure performance through in-depth interviews, analysis, and extensive secondary research to identify best practices in the industry.
Check out Frost & Sullivan's complete write-up on Section's recognition .