Kentik is the network observability company. Its platform is a must-have for the network front line, which is why network and cloud professionals from market leaders, such as IBM, Box, Zoom and countless others, turn to Kentik for the visibility needed to plan, run and fix any network. The company gives network pros what they need to make sense of network, cloud, host and container flow, internet routing, performance tests and network metrics, so they can make their business-critical services shine.
Test and Monitor Everything
Kentik offers customers the ability to ingest telemetry from different sources – across clouds, data centers, edge, WAN, SD-WAN and so on – to understand exactly what's happening on any network. One way to do this is by observing flow logs from routers and devices to analyze the traffic flowing through a given network. In doing so, Kentik enables customers to keep an eye on device health and workloads, plan for capacity, identify trends and potential problems, and more.
The company also offers the ability to simulate a customer's network traffic by synthesizing traffic from different geographies around the world. The process – known as Kentik Synthetics – simulates visitor requests to test latency-sensitive applications. This is done through an "agent" that Kentik deploys around the world, giving customers access to performance data from cloud and other hosting providers.
The broader and more distributed Kentik can make this worldwide agent footprint the better, as it provides greater performance insight. But deploying and managing agents on networks around the globe is a significant pain point for the company, for all intents and purposes forcing Kentik to assemble and operate its own distributed global network from a variety of vendors.
That is, until they found Section.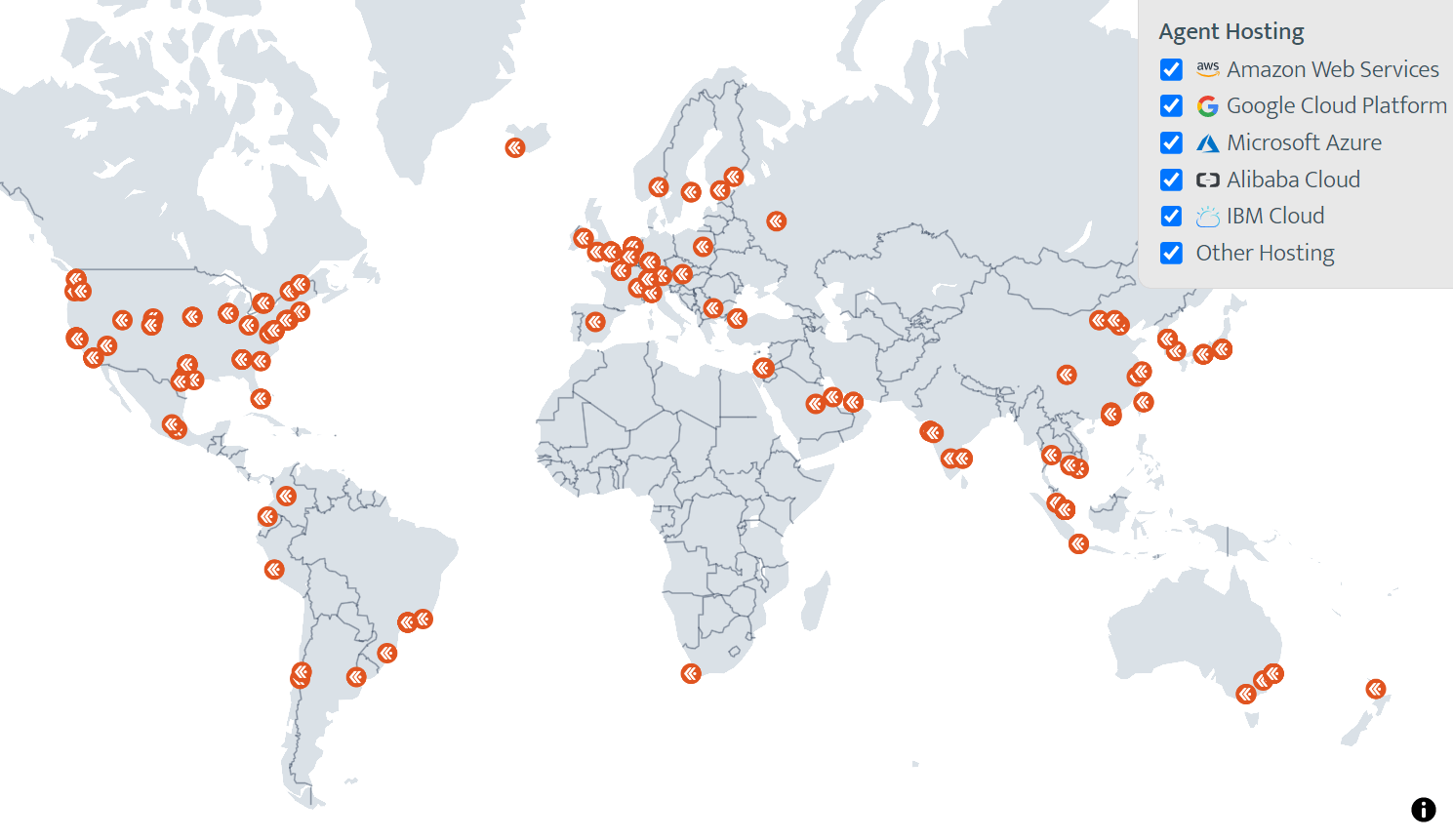 Bolstering Kentik Synthetics
Whether it's digital experience monitoring, traffic troubleshooting or emulating the performance of global users, Kentik Synthetics relies on a global network of these testing agents to allow customers to verify infrastructure, application and services performance levels across cloud and hybrid networks. Kentik turned to Section for help expanding customer access to these agents on an increasing number of networks around the globe.
Section's cloud-native hosting system continuously optimizes orchestration of secure and reliable global infrastructure for application delivery, a key selling point for Kentik's CEO Avi Freedman: "As a network observability company, Kentik has a global view of the internet combining passive and active measurements. Partnering with Section allows us to quickly and easily augment our edge deployments, and their cloud-native platform and partnerships make it easy and affordable to integrate as we continually expand our footprint."
Opening Doors to Untapped Networks
Of the many thousands of global data centers around the world today, choosing the right one to host an application – or synthetic agent – is a largely manual and arbitrary process. Section's sophisticated, distributed and clusterless platform intelligently and adaptively manages workloads worldwide around performance, reliability, compliance, cost or other developer intent to ensure applications run at the right place and time. This made Section's solution precisely what Sunil Kodiyan, Kentik Synthetics Product Manager, needed for agent deployment.
"I like Section's transparency in terms of costs as well as its flexibility around how bandwidth usage for ingress and egress is weighted based on overall CPU and memory usage. Section makes it straightforward and easy for us to understand our overall consumption. What's more, Section allows us to have greater diversity in our agent network and agent fleet. They were able to get us access to networks and geographies that previously were inaccessible to us."
Support You Can Count on
Getting started with Section could not have been easier. The company's solutions engineers developed a proof of concept, and from there Kentik was able to kick off the engagement and deploy quickly. Before long, Kentik's site reliability engineers were formulating scripts based on the deployment plan, allowing them to further automate processes by leveraging Section's platform.
When help was needed, Section's support team was standing by Kentik's side. As is often the case in any new engagement, a few minor support tickets emerged during the initial deployment. But Kentik's Site Reliability Engineer, Jenna Sprattler, noted that Section's support team was "responsive, helpful and resolved our issues quickly." She was particularly fond of the Section support team's email distribution list that auto-generates help tickets as well as the availability of team's Slack channel for quick, one-off requests.
"Not only has Section's support console been easy to navigate, but its user interface for deployments makes it easy to see our environments, what we've deployed and the resources we're utilizing," says Sprattler. "It's fantastic, efficient and extremely helpful!"
A Partnership Designed to Grow
"Our overall experience with Section has been very positive," Kodiyan says. "We've easily accomplished our goal to increase our agent fleet count, growing the deployment by about 20% through Section. This is significant because the wider our presence globally, the more confidence our customers have knowing that if they need an agent in a specific geography, they can spin one up and start testing from that location."
Kodiyan sees plenty of room for Kentik's partnership to grow in the months and years ahead. "We look forward to expanding our partnership, especially in diverse geographic networks that are difficult for us to enter, like Asia, Africa and others."