Edge Developers Leading the Way on Kubernetes Adoption, But Complex Infrastructure Still a Challenge for Many
A survey released by SlashData™ for the Cloud Native Computing Foundation (CNCF) recently looked at "The State of Cloud Native Development" based on feedback from more than 19,000 developers. The report found that there are now nearly 7 million cloud native developers around the world, with larger enterprises and more experienced developers in North America and Western Europe driving the rapid adoption of these technologies.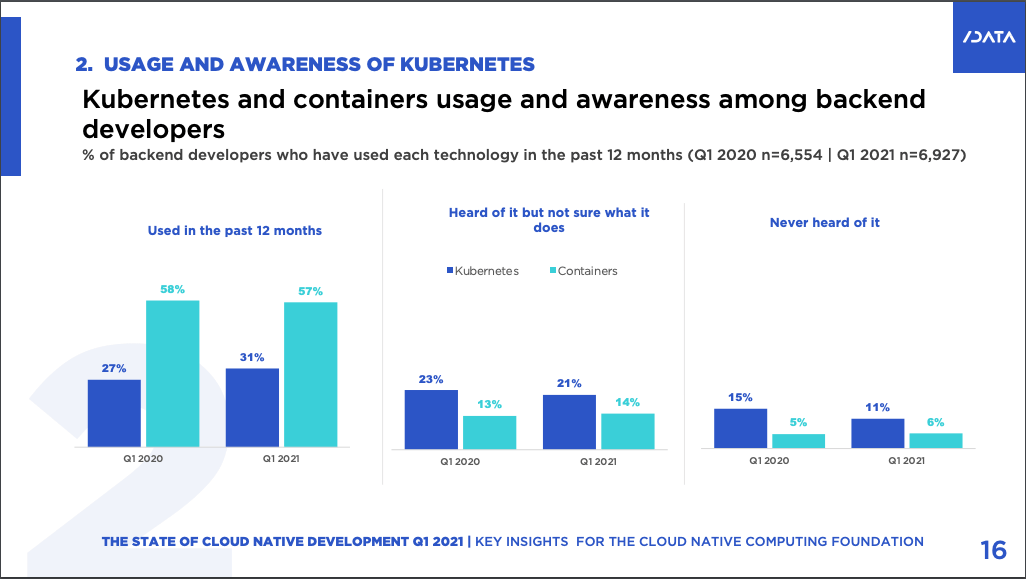 The CNCF's first project, Kubernetes, is now the most widely used container orchestration platform, and the study reports that nearly one-third of all backend developers (31%) are using Kubernetes. In a recent Toolbox article, Section's Vice President of Product, Walt Noffsinger, noted that Kubernetes is playing an increasingly critical role in edge computing. In looking ahead to 2022, Walt anticipates the following:
Hosting and edge platforms built to support Kubernetes will have a competitive advantage in being able to flexibly support modern DevOps teams' requirements. Edge platform providers who can ease integration with Kubernetes-aware environments will attract attention from the growing cloud-native community. - Walt Noffsinger, VP of Product, Section
We expect 2022 will be another big year for the edge, and the findings of this latest survey indicate the trend is accelerating. According to the data, adoption of Kubernetes among edge developers has increased by 11% in the past 12 months, which is nearly three times the growth rate among backend developers overall.
The report's findings highlight several other interesting edge computing developments from those participating in the most recent survey. For instance:
Edge application developers have the highest usage and awareness of containers (76%) and Kubernetes (63%) when compared with developers in other areas of focus, such as quantum computing, 5G, blockchain and cryptocurrencies, computer vision, robotics, etc.

While container usage among edge developers is basically unchanged over the past year, Kubernetes usage has increased by 10 percentage points to 63%.

While nearly half of all edge developers (48%) use serverless architecture compared with just one-third of all backend developers, it's seen a recent drop in usage since peaking at 56%.

Edge developers show a strong preference for private clouds (64%), public clouds (63%) and on-premise servers (59%), compared with multi-cloud (44%) and hybrid cloud (42%) environments.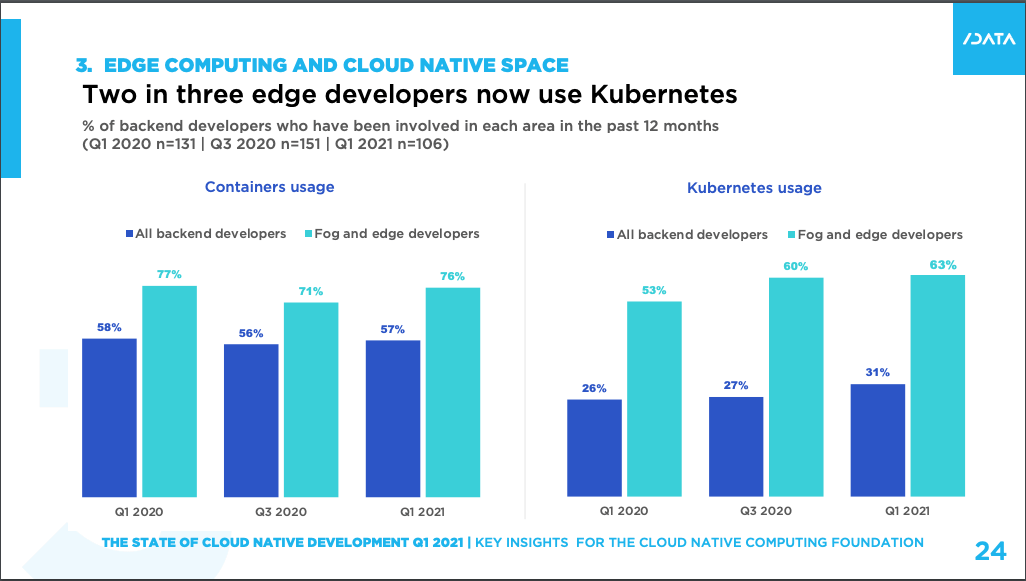 Complex Cloud Infrastructure Still a Hurdle
As a whole, the report points to the fact that edge application developers "gravitate towards a more secure and less complex infrastructure." This is not surprising, especially when it comes to the challenges associated with running a multi-cloud or hybrid cloud IT infrastructure. While a multi-cloud or hybrid-cloud approach offers a tremendous amount of flexibility, it's extremely difficult to orchestrate workloads across hundreds or even thousands of endpoints. We discussed several of these challenges in a blog post on "The Move Towards a Multi-Cloud and Hybrid IT Infrastructure" last year.
As Walt noted in his predictions for edge computing in 2022, "as [Kubernetes and containerized applications] usage increases, so too will organizational expectations. Companies will demand more from edge platform providers in terms of support to help ease deployment and ongoing operations." These edge platform offerings must make the experience of programming at the edge as familiar as possible to developers, while also being flexible enough to adapt to different architectures, frameworks and programming languages.
Section's EaaS: An Easy Button to Solve for These Challenges
Section's Edge as a Service (EaaS) can solve for these challenges among teams that don't have the resources or expertise to build and manage such complex systems. What's more, Section's EaaS platform helps organizations overcome security concerns by extending the network layer protections offered by industry-leading public cloud providers while also offering a wide array of additional security solutions.
Get in touch if you'd like to learn more about how Section can give your customers all the benefits of a distributed deployment model without the headache of building and managing multi-cloud and hybrid systems.