A New Corporate Objective
A few months ago, my co founder and CTO, Dan, declared a need to climb Longs Peak here in Colorado. Why? "because it's there" (that classic Mountain climbers' cry). It turns out that during his morning drive into our Boulder office from Lousiville, every day since we moved to Colorado from Australia, Longs was standing tall and taunting on his skyline.
I joined Dan on the journey to build Section from the ground up so of course I had to jump in on the journey up Longs. These days however, it is not just Dan and me on this journey with Section, we have an awesome established team in Australia and now a new team in the USA who have joined us for the ride. Unfortunately, our Aussie team are just a bit far away to tackle Colorado peaks but our new USA crew were keen.
Very quickly, had a new major item on our corporate objectives planning board "Climb a Colorado 14er".
Longs Peak Vs Mt Bierstadt
Longs Peak is one of Colorado's 58 14ers. A peak which rises 14,259 feet above sea level. There are no peaks in Colorado which rise above 15,000 feet so climbing a 14er is what it's all about. They range in difficulty with Longs rated as the 14th most difficult.
As we researched Longs we found a recurring theme; risk of fatality. Ouch. Not good for corporate growth I'd expect. We also discovered that in addition to the risks involved, Longs is a big commit on the day to a very long and very physical walk. With just a few months to get in shape for a walk before the 14er walking season becomes more of a snowshoe shuffle than a hike, we figured we should tackle a peak within the realms of our immediately prospective capabilities. So we settled on Mt Bierstadt as a prelim 14er. While still a 14er and presenting the normal 14er challenges of altitude and elevation, Mt Bierstadt is a shorter and less technical hike than Longs.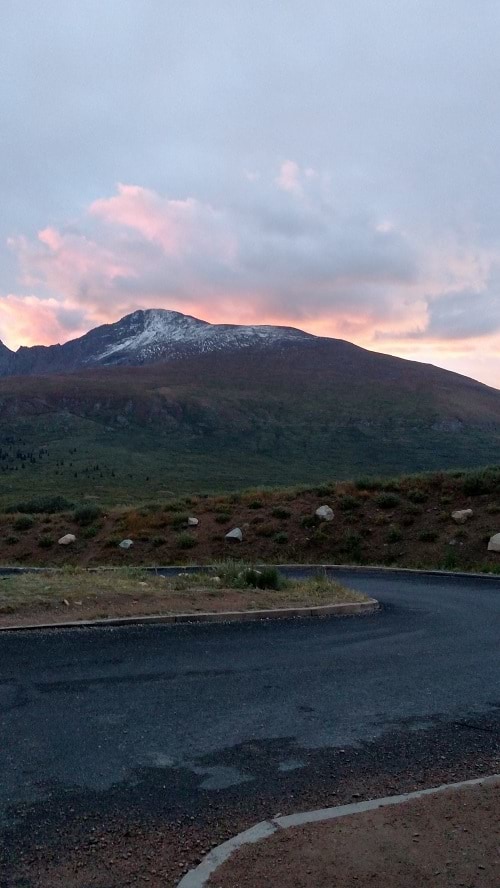 Preparation
As an agile organisation, our daily stand ups around the objectives board include the usual elements such as sales, product and marketing. With the 14er on the table, stand up focus now also included a 14er. Our corporate objective was to climb Bierstadt as a team. Secondary objectives; a healthier and happier team and a chance to spend quality time together outside of the office (and Boulder's bars).
We checked in on our training progress with each stand up. I'd like to say we all scored a tick on training all the time but life gets in the way. We did find that on average, the team became more active than was previously the case. More walks, longer walks and a fitter, healthier team. Even if we did not make the top of the 14er, already this was a really positive outcome.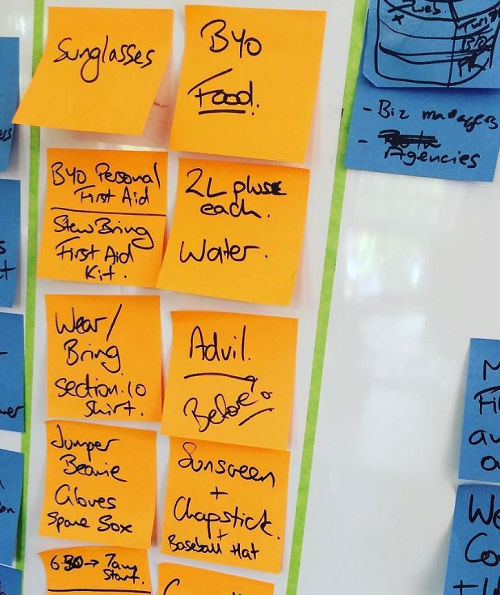 As the day approached for the climb we sorted out gear required and travel arrangements and then organised ourselves with a few more post it notes on the "to do" board. Of course, we discussed the age old rule of not bringing any new gear on an expedition and of course, folks nipped out to REI on the night before for a brand new jacket, pants and a set of walking poles. Was there ever any doubt!
Pre Game Jitters
Packs packed and travel arrangements made, some of us (as software folks) had to over engineer the process and critically study the impending weather conditions; 49% chance of thunderstorms before midday. Standing on a 14er in a thunderstorms is not a recommended practice (see earlier mention of fatality issues) so weather is a major player on whether you make it to the summit on any given day.
With some more calculation and an entrepreneurial spirit, we figured we had a 51% chance there would be no thunderstorms and that the standard deviation of the error rate in forecasts would provide a margin for a window of success. Then we discussed taking a lean approach on letting the weather affect the go /no go. Finally, we figured we would just turn up and wind down the window.
It seems the first challenge on the day of the hike with many 14ers is getting to the parking lot early enough to secure a spot! We were scheduled for a 7am departure and found the lot nearly full. Gotta get going early.
Go Time
As it turned out, were… lucky / fortunate / made our own luck … as, despite a little early rain, our walk was perfect. We kept a steady pace together all the way to the top and, just as we scrambled over the final boulders and crags to the summit, the clouds parted to provide us with a crisp, expansive, 14,000 foot Colorado vista. Beautiful.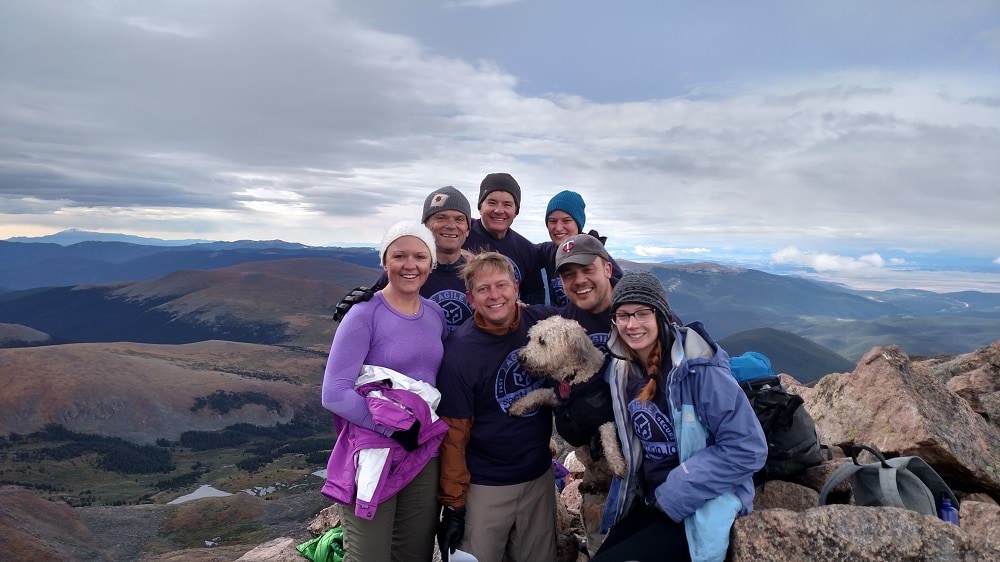 What better way to celebrate the summiting of a 14er than by hunkering down out of the wind and occasional bursts of snow to hand around Vegemite sambos. Bloody good stuff that.
3 hours up and 2.5 hours down. Thank goodness we had packed a few of Colorado's finest brews in the cooler for a carpark celebration.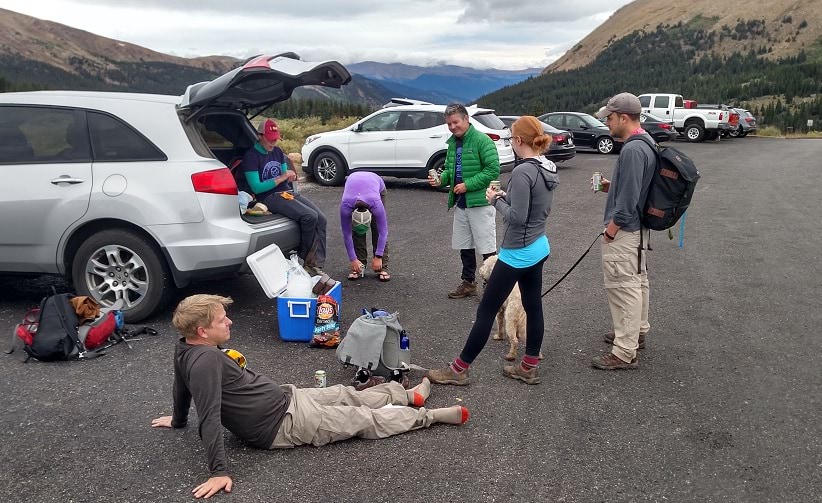 What's Next
Bierstadt was the opening salvo in our campaign on Longs Peak. We have ticked one 14er off the list but Longs still beckons. Next season…
Most importantly however, the process kicked off by our CTO was the opening salvo in the USA in our search for an office culture of healthy, happy and balanced people. A culture we fostered in Australia initially with our remote office workplace allowing our team to spend circa 2 hours less each day travelling to and from a central Sydney office.
We love turning up to work at Section every day and hanging out with good folks here in the USA and back in Australia. People who are happy to get out of their comfort zones, aren't afraid of a bit of hard work and can have a laugh in the process. After all, we reckon there is no such thing as achieving a work / life balance. We reckon it's all life.
What's up next Aussie and USA teams?